Advanced Tobruk System (ATS): Stalingrad (2nd Edition)
de
Critical Hit
Precio: 39,95 €
ATS Stalingrad 2nd Edition ports the entire scenario set to CH´s acclaimed large hex Stalingrad map "STAL II". You receive everything that came with the previous edition of ATS Stalingrad AND MORE!
The new set includes 12 scenarios, including a scenario depicting the siG 33B, a 150mm gun-armed SP Gun (counters are included in the new version of ATS Stalingrad for the siG 33B). That´s THREE MORE scenarios than the first edition of the game AND new counters!
To sweeten the pot, you ALSO receive a sheet of new LARGE MARKER COUNTERS (set to make their debut in ATS OMAHA) that provide LARGE SMOKE counters + NEW FFE/CCF counters + NEW BUILDING LEVEL MARKERS IN A NEW STYLE, + additional foxhole, weapons pit and hedgehog markers. Oops, you also get NEW large and small starshell counters!
The large-hex STAL II Stalingrad map allows ATSers to game out the room-by-room Battle of Stalingrad without stacking issues...really getting the feel for this titanic, yet personal, deadly and close-range struggle.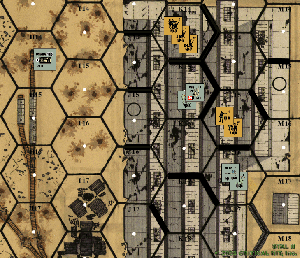 Above is a screen-shot of the STAL II map in action. A typical showdown, deep inside a ruined factory is depicted. Exactly the kind of tense standoff YOUR cardboard soldiers will experience. The Germans are outnumbered inside the factory 2:1. But all is not lost. The remaining high interior walls (depicted by thick black hexsides) block movement and fire, shielding the German squads in hexes K15 and L16. Their Russians adversaries, a 40 man platoon led by an officer, are close enough to hear their enemies talk longingly of home...to smell the stench of the unwashed soldiers. Yet they cannot see them in the tangled interior. Outside (in hex H14) a squat Sturmgeschütz IIIC stands along a siding of boxcars...amidst the shellhole-strewn lunar landscape. Its commander, peering through periscope sights can make out nothing...the battlefield is literally empty. He knows from the intermittent burst from a machine-pistol, shouts...that deep inside the looming factory a life-and-death struggle continues.
In game-speak...the Russians in hex K14 have no LOS to the flamethrower-wielding German squad in K15. If they choose to remain inside the factory, their movement options are limited. They can move to hex J14, but such a move is fraught with risk. Moving there brings them into the LOS of the Germans in K15, and with that the risk of a flamethrower Opportunity Fire reply. A quick check of the Casualty Table reveals the odds: if all three Russian squads moved into J14 at the same time the flamethrower has a 50% chance to obtain a C3 or better, eliminating one squad outright and forcing the survivors to check morale, adding a + die roll modifier equal to the Casualty Table ´C´ result (e.g., a C4 results in a +4 DRM). With a morale of ´7´ each, the chance of each of the surviving Russian squads to remain unbroken, and thus a threat, may be as low as 10-30%, once other modifiers are factored in (e.g., the adjacent German squad reduces Russian morale -1; the same-hex friendly squad provides a +1, and the aforementioned ´C´ results in modifiers. So on a C4, a total of +4 is applied, and a roll of 3 or less is needed to pass a morale check. If the unit rolls exactly a ´3´, it is Pinned Down and may move no further, although it may Infiltrate normally (i.e., move one hex or location within a hex during the Close Assault Segment).
There is another problem for the Russians in hex K14, if they choose to move within the factory. That squat StuG III, idling its engine and sitting patiently in hex H14 comes in to play the moment an enemy enters its LOS. Where they stand, in K14, no LOS exists from outside the factory. The moment hex J14 or J13 is entered, the enemy SP gun comes into play. Things are not as bad as they seem from the Russian perspective, however. The risks of entering J14 are documented, above. And entering J13 brings the StuG in to play. But what of this weapons system, the Sturmgeschütz III? It is armed with a short-barreled 7.5 cm StuK 37 L/24 cannon, not exactly a T-34 killer, but potent enough against infantry. It has nary a machine-gun for close-in defense and can get one round off unless a hex has already been fired at and hit previously (as denoted by the placement of a BOT [Burst on Target, admittedly a post WW II term used for game purposes] marker), in which case it can fire twice, i.e., double its Rate of Fire.
ATS STALINGRAD 2nd EDITION FULL EDITION The Battle of Stalingrad at 50 yards scale in a stand-alone ATS game. Everything you need to own is included, just bring your own 10-sided die.
You receive: * A complete collection of color die-cut counters in 1/2", 5/8" and 3/4" sizes, representing the tanks, guns, infantry and watercraft that fought in the Battle of Stalingrad 1942 * A 24" x 34" LARGE HEX STAL II Stalingrad battlefield map (also used in ATS Basic Game II) *Bonus siG33B counters *Bonus sheet of OMAHA style marker counters * The latest edition of the ATS rules of play * 12 Scenarios * Play Aids * A snazzy ziploc® style bag to hold it all in.
| | |
| --- | --- |
| Edición y Reglas Originales del Juego: | |
| | |